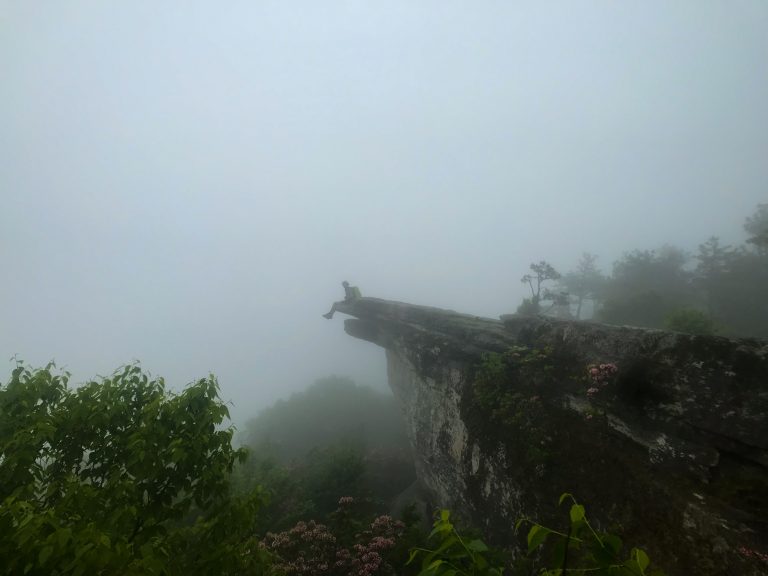 A Quarter Done
Initially I wanted to stay for two days in Damascus. Because of the bad weather I stayed there for another day. I just had to switch the rooms which wasn't a big deal. Another day of relaxing. The decision wasn't hard ?
The weather the next day wasn't any better, but I had to hike out after three days in town. After that many days of resting my muscles, I pushed really hard. I did over 22 miles each day. Maybe also because of the rain every single day. There was just no other choice than continue to walk.
I reached the Grayson Highlands after some days. That's a really cool and crowded stretch. You walk over some really cool highlands and guess what's the best? There are wild ponies everywhere! Yes right, wild ponies. That was so cool ? Just as it stopped raining I setup my tent as fast as I could. After the tent was setup and I had dinner it began raining again.
For one day I hiked with a guy from Sydney, Australia. Originally he was from the UK. He was in the British Army and is also an Ultramarathon runner. He wants to do the whole AT in just 90 days. Which basically means he has to do about 25 miles each day without any Zero Day. Wow! That's simply amazing. No way I could hike with this dude. But I reached the quarter way point with him and he took a photo of me. That smile on the photo definitely wasn't real. You know what? It rained quite the whole day.
Some words about the rain. I had 8 days of rain out of 10. At that time I was so sick of the rain. I really thought about quitting the trail and just go home for my cozy apartment. I mean my gear was all wet and there was no way to dry it out because of the humidity. If there was a plane nearby at that time I definitely would have quit!
I wanted to do my next Zero Day in a town called Pearisburg. I camped about 14 miles out of town and reached it about 1 pm. There were 2 motels there but no one had any available rooms left. That never happened so far! There was no choice to stay in town. I had to go on for the next town. That's why I just did a resupply of food and just went on. It basically means I had to walk 290 miles from Damascus to Daleville without doing any resting. As I hiked out I knew this would be a tough stretch.
The weather continued like the same. It was mostly raining. Even my awesome host here in the US, Cindy, told me that it's definitely way to much rain for that time of the year!
The last 40 to 50 miles before reaching Daleville should get pretty cool. There is the Dragon's Tooth and the very famous McAfee Knob on the way.
The Dragon's Tooth was pretty cool. It's just a huge rock formation on top of a mountain that looks like a tooth of a dragon. Actually I was able to climb this thing. The last mile of the climb and the descent were pretty tough. It was a very steep and rocky terrain. A 35 pound backpack doesn't make the climbs easier ?
I only had 24 miles left to Daleville. Because of the bad weather I wanted to reach the town the next day. I got up pretty early the next morning. I started with a night hike at about 5:30. It was pretty foggy that morning.
Quite after sunrise I was on top of a ridgeline and just doing some miles. I wasn't really looking for the trail or anything else. Just about 50 feet in front of me there was a bear in the middle of the trail. I think we were both really scared. We were just looking each other for seconds. I didn't really know what to do, so I took some photos. The bear just turned around and slowly walked away.
The last cool place before town should be McAfee Knob. It's an outstanding cliff on top of a mountain. The rain stopped as I reached the cliff. Sadly, there was no view at all. I had to take the cliche photo, sitting on the edge of the cliff. Sorry Mum ?
Arriving in town I was pretty exhausted. I did 290 miles / 460 kilometers in just 13 days. That was way to much for my body. Definitely need to rest now!!