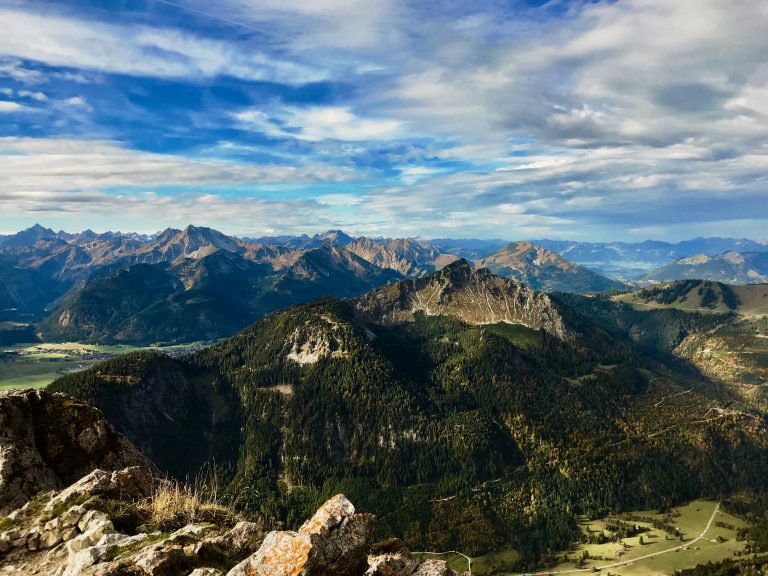 Aggenstein
Two weeks after my Appalachian Trail Thru-Hike my buddy Johannes asked my if I wanna join him on a day hike in the alps up to a mountain called Aggenstein. Even I had two weeks of resting time my body still was very tired. My muscles weren't sore, but walking somehow hurt. Nevertheless, the weather on the weekend was just perfect. I had to join him!
I picked him up at 5am and we drove two hours to our destination in Pfronten. We just reached the parking lot at sunrise time. What an epic sunrise with all the clouds surrounding the mountains! It was spectacular! After a short flat stretch it got steep pretty soon. I started with long pants and a fleece jacket. Pretty bad idea. About 5 minutes later I changed to shorts and a shirt.
Initially, we planned a 12 mile (18.5 kilometers) route. The signs leading to the summit showed a slightly other direction. We decided to follow the signs up to the summit instead of following our GPS. There is also a gondola going up to the start of the real climb. It wasn't open yet. Nevertheless, we never would have used the gondola! We reached the top of the gondola about 1.5 hours after we started our hike and did a first short break to take a second breakfast. From now on we had awesome views down the valley and we were surrounded by all these beautiful mountains. It felt so great to be back in the alps.
The next stretch led us to the Kissinger hut. A nice little hut just at the mountain face. We took a longer break just before the hut after an exhausting climb up a pass. Just as we reached the hut there were a lot of people coming up on the other side of the mountain. That's why we decided to push on instead of chilling at the hut. We really pushed hard the last stretch up to the summit. On the last stretch you shouldn't be afraid of heights and be really aware of your steps. It's pretty steep. There is a steel cable, but the rocks were really slippery. That's why we climbed some stretches slightly besides the rope.
We reached the summit as one of the first people on this day, slightly 3 hours after we started the tour. We enjoyed our time up there and also fed some birds, which were definitely waiting for some food. The view was amazing once more. It took about 15 to 20 minutes and there were at least 20 people on the small summit. I cannot blame them. The weather and the views were just perfect. We started our descent. While going down, there were tons of people coming up. Worth the early start! We took a last break at another hut and I enjoyed a Radler. There were two possibilities going down the mountain. A longer route which would lead us walking along a road for quite a while and once more a steep black route down the rock face. Of course, we decided to hike down the steep one. Bad idea… While I haven't had any issues with my knees going up, going down this steep trail was very bad on my knees. Johannes struggled a bit too and we took our time.
All in all a perfect first tour back at home. In total, we hiked 11.25 miles (18 kilometers) with an elevation of 5100 feet (1700 meters). I gave Johannes the nickname tour god. He always finds this amazing hiking trails. I have no clue how he does that, but I'm glad I'm able to join him on this hikes!