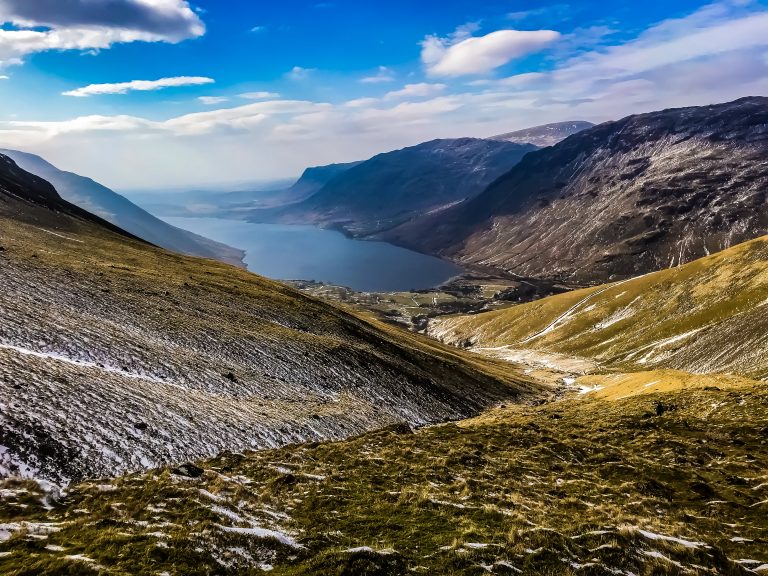 Lake District National Park
I went with Emanuel (a colleague of mine) to the Lake District National Park in England for a four day hike. We took a flight from Frankfurt to Manchester. It was a very windy flight with many turbulences. When we flew we also didn't know anything of the Beast of the East yet. Actually it is the coldest winter in England since 27 years. A guy in the plane told me that half of his colleagues didn't came to work because of the snow and very windy conditions.
Day 1
Nevertheless, we arrived in Manchester, took our rental car and drove to Crewe. We slept the first night in a very nice hotel called Rookery Hall. The breakfast the next morning was fantastic. After buying some fuel and food for the next day we went for our three hour drive to the Lake District National Park.
Day 2
We arrived at our destination parking lot at around 1 o'clock. So, we had about 4-5 hours to walk before the sun goes down. We walked about 2 miles until we saw the lake called Wast Water. A really scenery lake between the mountains. The path besides the lake was insanely rocky and difficult to walk. Wasn't what we expected. So it took us quite some time to reach the other side of the lake. Besides the difficult path it was crazy windy down at the lake.
We looked for a spot to set up our tents. No way to set up our ultralight tents in this windy conditions. Luckily there was an open camping area where wo took a wooden hut with a small heater for the night. It was really chilly. We met a guy from France at the camping area. He set up his tent in this conditions. I have no clue how this guy did it.
Day 3
We met the guy the next morning. He said it was stupidly cold in his tent. Despite he wore all his layers he had. He wanted to climb the highest mountain in England, Scafell Pike. The guy in the camping shop told us that we would not be able to do this without crampons and an ice axe. Nevertheless, we wanted to reach the summit and went with the french guy. By the way, Benjamin, the french guy, was really well prepared. He had all the needed gear for a successful summit. Imagine two hikers with trail runners and a 60l backpack and one with snow boots, crampons on it and an ice axe on his climbing backpack. What a surreal image. About half of the way was really doable. Then hell began. Freezing cold wind with wind speeds around 50mph. Snow and ice everywhere. It was a really hard climb up to the summit. But, WE DID IT. We reached the summit of Scaffel Pike at around 12 o'clock. The way down was really dangerous. Ice everywhere. Really hard without crampons. We came back to the camping area at 3 o'clock. So, what to do with the Rest of the day? We went to a local pub about 20 minutes to walk for some beers. Had some nice talks with Benjamin. He summited Mont Blanc last year. What a crazy guy.
Because of the extrem conditions we were not able to take our planned route. It was way to windy on top of the mountains for setting up our tents. So, we took the wooden hut for another night.
Day 4
On sunday, we took a path up on the mountains by the lake Wast Water in direction back to our car. The scenery with the mountains around and the lake was absolutly amazing. We had all kind of weather this day. Really high wind, sun, snow and rain. After some hours of hiking we found a lovely camping spot down at the lake where we set up our tents. Soon after we went to bed it started raining. Perfect timing. The night was not that cold. It rained sometimes and was quite windy. So, not that much sleep.
Day 5
The next morning was absolutely perfect. No rain and beautiful sunset. We only had a couple of miles left back to the car. So, we took it easy. We arrived quite to early at the airport in Manchester. We enjoyed some food, beer and coffee.